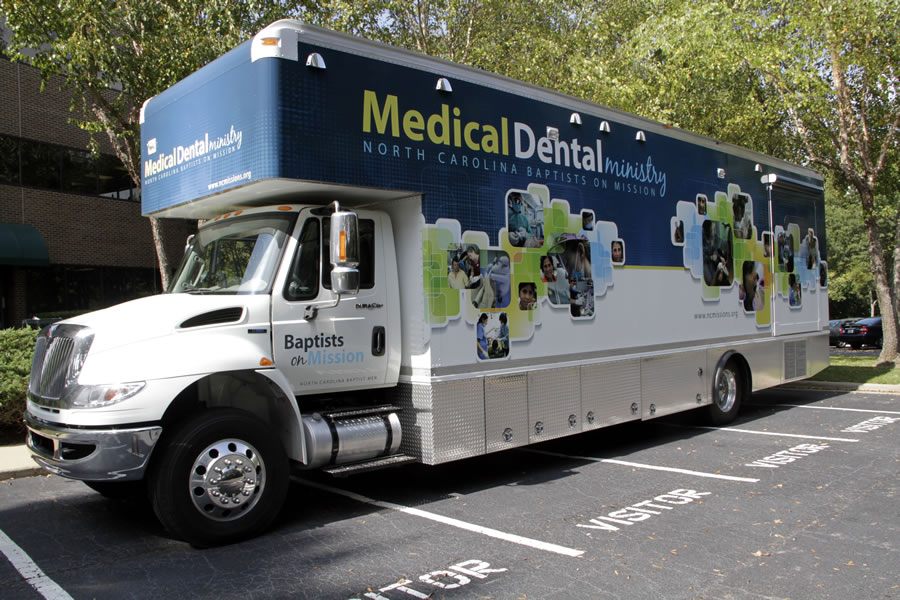 The Dental Bus at Sandy Ridge is made possible by the NC Baptist Men Association. The bus was brought into existence in 1989 because North Carolina Baptist Men felt that meeting physical needs of people who were hurting was a means to fulfilling the command of our Lord to minister in all ways to share the Good News of Jesus Christ. NC Baptist Men offer the use of the mobile unit to Baptist and non-Baptist churches and service organizations within NC who wish to reach out to people in need.There are 2 exam rooms, waiting area, x-ray equipment and sterilization equipment on the bus. All dentists, dental assistants, and hygienists are volunteers. Many church volunteers are required to make the event possible.To be a patient on the bus you must meet certain criteria: people without insurance, the impoverished, Hispanic & other ethnic groups, migrant workers, fair workers, the homeless, elderly and more. The patient must qualify through financial need.
Sandy Ridge will host the Dental Bus October 26th-28th, 2017.
The Dental Bus Committee begins planning approximately eight months before the event. Committee meetings are held once a month.For more information contact Linda Jones at 828-495-8942. Closer to the time of the event, church members will be solicited to help in various ways.
Click on this link to download a copy of the Dental Bus Eligibility Form
Autobus de Cuidado Dental Aplicacion de Necesidad Financiera